With the usual summer heat wave encompassing St. Louis people are taking time to hide away in their air-conditioned homes and apartments. So to help you commiserate we thought we would highlight some of the films in our collection in which the heat itself almost becomes a character.
Die Hard With a Vengeanceopens a new window 
Director John McTiernanopens a new window returned to the franchise he started with the third entry in this series about the pyrotechnical exploits of John McClane (Bruce Willisopens a new window). This time McClane has a partner in crime in Zeus Carver, played by Samuel L. Jacksonopens a new window, and both must play a dangerous game of Simon Says with German terrorist Simon Gruber. This tense thriller is set in the middle of summer in New York City, and as the temperature and tension escalate, so does the verbal repartee between Willis and Jackson.
Rear Window is another classic from the master of suspense, Alfred Hitchcockopens a new window that stars James Stewartopens a new window. This time Stewart plays professional photographer L.B. Jefferies who is injured and confined to a wheel chair in his apartment. To pass the time Stewart begins using some of his more powerful binoculars and lenses to spy on his neighbors as they leave their windows open to cool their humid apartments in the summer heat. One night Stewart hears a woman scream "help," and he begins to suspect one of his neighbors of murdering his wife.
Do the Right Thingopens a new window
Set in the Bedford-Stuyvesant neighborhood in Brooklyn in the 1980's, Do the Right Thing tells the story of a wide variety of characters that live in the neighborhood, but primarily focuses on Mookie, played by Spike Leeopens a new window. Mookie works for Sal's pizzeria as a deliveryman and is treated harshly by Sal, and Sal's son Pino, who dislike Mookie because he is black. As the heat increases throughout the hot summer day racial tensions rise and converge on Sal's pizzeria. For another tension filled NYC summer film directed by Spike Lee, check out the 1970's period piece Summer of Samopens a new window.
Dog Day Afternoonopens a new window
Another hot and humid NYC summer(what is it with New York City in the summer and movies?) is the setting for a thrilling true story about a bank robbery gone wrong. Al Pacinoopens a new window is Sonny Wortzik who with two friends go to rob a bank in Brooklyn, but when they hold up the bank it turns out there is only $1,100 at the bank after the daily cash pickup. The situation devolves further from there as one of Sonny's co-conspirators flees the scene, and the robbery turns into a hostage situation.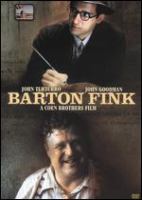 This early Coen Brothers'opens a new window film is not as well-known as The Big Lebowskiopens a new window, but in recent years its stature as a cult favorite has grown among audiences. This eccentric dark comedy stars Coen Brothers' regular John Turturroopens a new window as Barton Fink, a Broadway playwright who goes to Hollywood to write a screenplay for Capitol Pictures. In order to write the screenplay the film company checks Barton into the Hotel Earle where the wallpaper is falling off the walls, weird noises emanate from the walls, and the hotel is oddly extremely hot and humid. This layered and original film tackles a variety of different themes from Hollywood to Broadway, art vs. commerce, and illusion vs. reality.