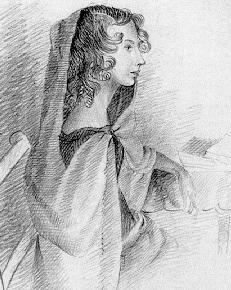 Anne was considered the quiet one, at least according to the big biography about her sister, Charlotte Brontë. So was Anne's work, in a way, which didn't have the passion that one would expect from Charlotte or Emily. Emily was vicious and wild; Charlotte was reserved, smoldering, and conflicted. Anne was matter of fact. Anne was about the facts, reality, and the importance of true beauty—honesty, kindness, and sanity.
Agnes Grey was the realistic Jane Eyre. It was written first but published last. Publication is a funny thing in a time period where authors rarely had control over their work and often had to pay for the pleasure of being published. After so many rejections, when the book finally did come out, people thought it was a knock-off of Jane Eyre, which is absurd and probably one life's cruelest jokes. Agnes Grey was a realistic, fictionalized account of the life of a real governess. It was a biting criticism of the aristocracy and their inability to treat the lower classes as human beings with lives, hopes, and feelings. There is no doubt that Jane Eyre is a masterpiece on its own—it offers a feminist perspective on education, love, and family…but it is a romanticized view of being a governess. A governess did not become the favorite of her charge. Her charge could be awful, spiteful, and play pranks on her. The master of the house was almost always married, usually quite old, and likely did not possess the brooding, almost charming demeanor of Jane Eyre's Mr. Rochester. The master of Agnes Grey's world was just unpleasant and hopefully would not glance twice at you, let alone fall in love with you. The mistress of the house was often even more unpleasant, expecting the governess to not only be teacher to her children, but also nursemaid, mother, and general all-around entertainment.
In between dealing with drama with her brother and later becoming a published author, Anne spent most of her adult life as a governess. In a steady sequence of tragedies, however, all but one of the Brontës succumbed to tuberculosis, all likely due to their brother's illness. After the family died, Charlotte obscured Anne's work even further. It wasn't until recently that critical attention was given to Anne's significant accomplishments.
Further reading: