Although acupuncture is over 2,000 years old, it was first documented in the text, "The Yellow Emperor's Classic of Internal Medicine," written between 200 B.C. and 100 A.D. in China. It is one of the oldest and most commonly used medical practices in the world. Read about restoring the balance between yin and yang with these titles from our digital collections.
Review provided by Hoopla
Does acupuncture work, and if so, how? Is there scientific research to validate acupunctures effects? What are its benefits? Can children be treated with acupuncture? Does it replace or complement conventional Western medicine? Does acupuncture really help with fertility? What does acupuncture treat and how can you use it for your health? Acupuncture, highlighted for its ability to relieve pain, remains a mystery to most of us in the West. Originating in ancient China over two-thousand years ago, its in need of a contemporary explanation for todays patients. How can placing small needles in different parts of the body lead to healing? Many common ailments are the result of long-standing imbalances: pain, fatigue, chronic sinus congestion, allergies, infertility, diabetes, high blood pressure, and digestive problems. Learn how acupuncture effectively treats the source of these symptoms, helping your body heal itself. Acupuncture Revolution provides the bridge between the ancient practice of acupuncture and modern medicine, and shows you how to use italong with other forms of treatmentfor your health. Holistic health care is not the rejection of conventional Western medicine; it is learning to use multiple approaches, each in the right way and at the right time, to support your health and wellness. The unique ability of acupuncture to restore balance and promote self-healing makes it an ideal complement to Western medicine. Learn where acupuncture comes from, how it views illness, what we know about it scientifically, what conditions it treats, how it heals and how to use it together with conventional medicine.
Review proviede by Hoopla
Basic Acupressure Booklet Acupressure Point Formulas & Energy Flows Point Treatment Guide This Asian Bodywork Therapy (ABT) booklet contains: the ancient principles of traditional Chinese medicine applied hands-on, learn how to work with healing energy, how acupressure works for energy balancing, practice a healing energy visualization, and a Hara breathing meditation. Learn Acupressure assessment procedures such as pulse reading and face reading, an intro to the meridians and styles of Acupressure, how to find and feel over 40 points, and presents how to work with the four pairs of Extraordinary Points, providing with two sets of flow patterns for each pair of Extraordinary Channels. For Acupressure Practitioner Training Discover special acupressure master points, a list of the Acupressure energy gates, Acupressure tonic points, anchor points, and calming points. Presents dietary balancing, and acupressure guidelines on how to prepare for an acupressure session. Obtain special point recipe formulates such as a Calming Acupressure Flow, Acupressure Vitality Recipe, Acupressure Immune Boosting Points, and a Women's Balancing Acupressure Point Treatment. • Illustrates over 45 points • 8 energy balancing channels • 36 anatomical line drawings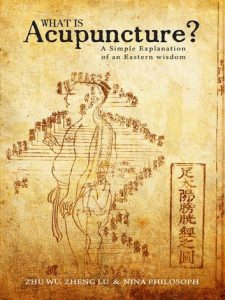 Review provided by Hoopla
Acupuncture and Traditional Chinese Medicine(TCM) is based on the principle that we are part of nature - it exists both around us and within our body. We reach optimal health when we live in harmony with the environment and when we achieve that balance within ourselves. TCM treats everybody as an individual. Everyone is unique. Two people may come in for the same issue but treatment will depend on the underlying cause.
Review provided by Hoopla
An exponential growth to medicine and therapeutic procedure has been possible only in modern science. The sciences in general are a post-Renaissance development. The disciplines developed in its methods have superseded those of previous traditions. Therapeutic traditions progressed in human biology, their practices helping to cure or alleviate some of the ailments perceived in the lore of human constitution. Whatever its interpretation, bio-physiology has a substantial species continuity enabling a social use for Traditional Therapies. A rationale for them within medicine and its science must be established. Investigating Chinese Acupuncture may suggest an approach to the scientific potential of other Traditional Therapeutics and, importantly, address the issue of public safety. Knowledge transmitted through European, Asian, Arab and Persian civilisations includes medical traditions that contributed to the Renaissance development of Medical Sciences. Acupuncture today is indeed a constructive metaphor for transacting and developing specific traditional therapeutic methods in Health Systems of nations, while acknowledging limitations and improving safe delivery.